Thyroid Overview
The thyroid's main role in the endocrine system is to regulate energy metabolism, which is your body's ability to break down food and convert it to energy. Food essentially fuels our bodies, and our bodies each "burn" that fuel at different rates. The thyroid hormone is made of iodine and protein. Thyroid cells are the only cells in the body that extract iodine from the blood and incorporate it into thyroid hormones. Thyroid cells are unique in that they are highly specialized to absorb and use iodine and make two thyroid hormones (T3 and T4) which are secreted in to the blood or stored. The pituitary gland and hypothalamus both control the thyroid. When thyroid hormone levels drop too low, the hypothalamus secretes Thyrotropin Releasing Hormone (TRH), which alerts the pituitary to produce Thyroid Stimulating Hormone (TSH). TSH then stimulates the thyroid gland to make more hormone. Therefore, the thyroid hormone secretion is highly regulated by the brain.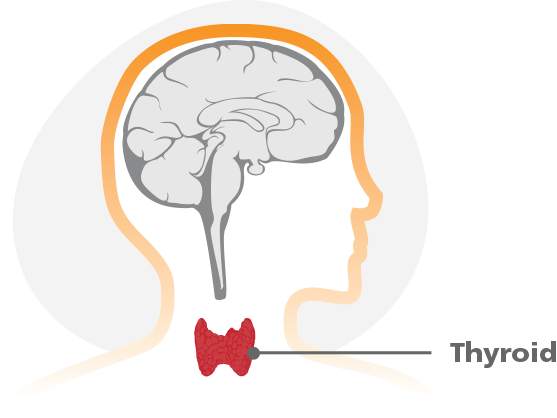 Anatomy of the Thyroid
Your thyroid gland is small, normally weighing less than one ounce. Derived from the Greek work meaning shield, the thyroid is a butterfly-shaped gland located in front of the windpipe (called the trachea) and just below the larynx or Adam's apple in the neck. It is comprised of two lobes, which are attached by a band of thyroid tissue called the isthmus.
Diseases and Disorders of the Thyroid
There are many diseases and disorders associated with the thyroid. Thyroid diseases can develop at any age and can result from a variety of causes – injury, infection, disease, genetic defects, immune influences, or dietary deficiency of iodine.

Most cases of clinical problems that affect patients are:
• Hyperthyroidism and Hypothyroidism (too much or too little thyroid hormone)
• Abnormal thyroid growth (goiter) which is an enlarged thyroid
• Nodules or lumps within the thyroid which may be singular or multiple
• Thyroid cancer (5-10% of all nodules)
Below are some of the most common thyroid disorders:
Hypothyroidism: Hypothyroidism is a common condition characterized by too little thyroid hormone. In infants, the condition is known as cretinism which can lead to very serious side effects, including abnormal bone formation and mental retardation. Goiter can also be a feature of hypothyroidism because the thyroid cells are not effective in making thyroid hormone and the brain causes high TSH to grow it. If you have hypothyroidism as an adult, you may experience sensitivity to cold, little appetite, and an overall sluggishness. Hypothyroidism often goes unnoticed, sometimes for years, before being diagnosed and is the most common thyroid disease. (See Hypothyroidism section)
Hyperthyroidism: Hyperthyroidism is caused by too much thyroid hormone. People with hyperthyroidism are often sensitive to heat, hyperactive, and eat excessively. Goiter is sometimes a side effect of hyperthyroidism. This is due to an over-stimulated thyroid and inflamed tissues.(See Hyperthyroidism section)
Goiters: a goiter is an abnormally enlarged thyroid gland which may grow large enough to cause local neck discomfort, difficulty swallowing liquids or solids and may even cause difficulty in breathing or speaking. A toxic goiter is associated with hyperthyroidism, and a non-toxic goiter, also known as a simple or endemic goiter, is caused by iodine deficiency or more commonly a genetic disorder that tends to run in a family. Since iodine is supplemented in our foods, the United States no longer has iodine deficiency.
Thyroid nodules: Solitary nodules or multiple nodules are common and they are caused by abnormal cellular growth or tumor. Most are not cancerous (benign) but about 5-10% may be cancerous. Usually a fine needle aspiration (FNA) of cells from the nodule will determine if the nodule is cancerous. (See Thyroid nodules section)
Thyroid cancer: There are several types of thyroid cancer and fortunately, most of these cancers have a very good prognosis if identified and treated early. Thyroid cancer is fairly common and long-term survival rates are excellent. Occasionally, symptoms such as hoarseness, neck pain, and enlarged lymph nodes occur in people with thyroid cancer. Thyroid cancer can affect anyone at any age, though women and people over thirty are most likely to develop the condition. An in-depth discussion of thyroid cancer can be found at the American Thyroid Association.
Thyroiditis: Thyroiditis is an inflammation or viral infection of the thyroid that may be associated with abnormal thyroid function. Initially hyperthyroidism is the presenting condition. There are several types of thyroiditis, and the treatment is different for each. When the infection damages the thyroid cells, the stored thyroid hormone leaks out causing hyperthyroidism. This is commonly followed by hypothyroidism because the thyroid cells are not making enough thyroid hormone and therefore the thyroid levels decline. Finally, most often the thyroid cells heal and the thyroid function returns to normal.